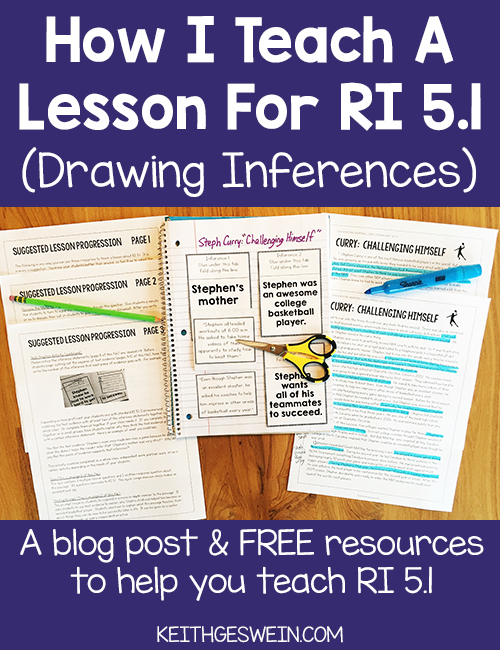 Students are expected to become more proficient at comprehending informational passages every year.  Teachers should be given high-quality resources to help students meet these high expectations.  That's why I've created a lesson to help fifth graders learn how to draw inferences using an informational text about NBA star Steph Curry (CCSS ELA Standard RI 5.1).
Click here to grab the free lesson.  Continue reading to see how I teach RI 5.1.
Preview the Material
Tell your students they are going to read about the childhood of Steph Curry.  You're going to see some of your reluctant readers perk up a bit!  If you really want to excite the sports fans in your class, show them this video.  It has eight minutes of highlights from Curry's career.  It even shows him as a young kid.  If you're short on time (or if you're a Cavs fan) you can just show the first few minutes of this video.
Now that your students have seen these amazing plays by Curry, it's time for them to think about how he became a superstar.  Ask students to predict what Curry did as a young kid that helped him become successful.  What habits did he begin forming as a young boy that benefit him today?  It's interesting to hear these predictions before kids read the passage.
After students have brainstormed their ideas, ask them to share with the class.  Ask them to explain WHY they have this idea.  This will prepare them to justify their answer, which is something they will be doing when they use text evidence to justify their inferences later in the lesson.
For more information, download the free resource and read the suggested lesson progression, which is shown here.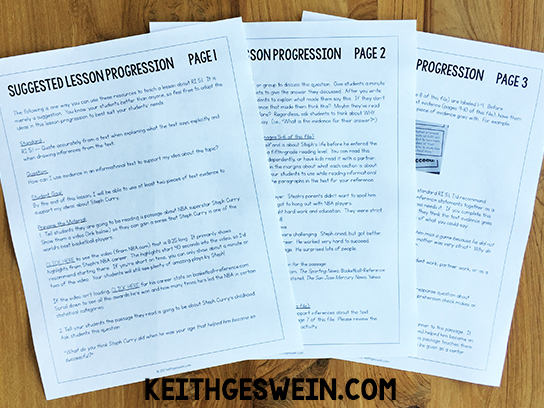 Read the Passage
I've been a huge basketball fan my whole life, so this passage was fun to write! It was also fascinating to research Steph's childhood.  His parents REALLY made him work hard when he was young.  I tried to make this crystal clear when I wrote the passage.  Students should understand that Steph's success didn't happen overnight.  Steph had to establish these habits as a young boy.
I hope students are able to draw inferences about how much work it takes to become an NBA superstar.  More importantly, I hope students realize they will have to work hard to achieve their dreams.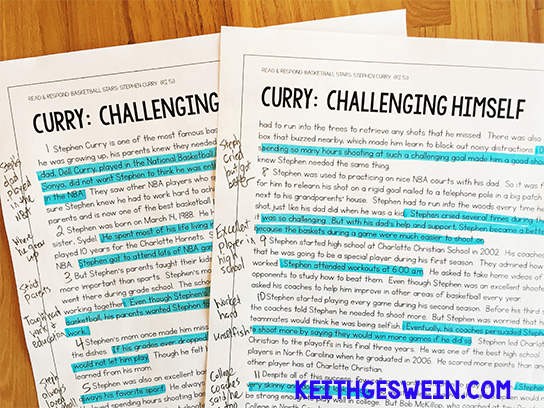 Practice the Skill
Here's an engaging way for kids to practice the skill.  Students are given four inferences that can be made about Steph's childhood.  They will glue them into their notebook as shown here.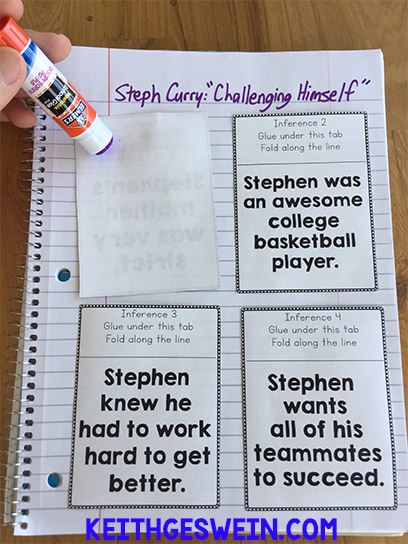 Students are also given eight pieces of text evidence.  They have to match two pieces of text evidence that support each inference.  I'd recommend matching the text evidence for at least one inference together as a class.  The final result is shown below.  The inferences are written in bold.  The text evidence is not bold.  More instructions are provided in the lesson progression.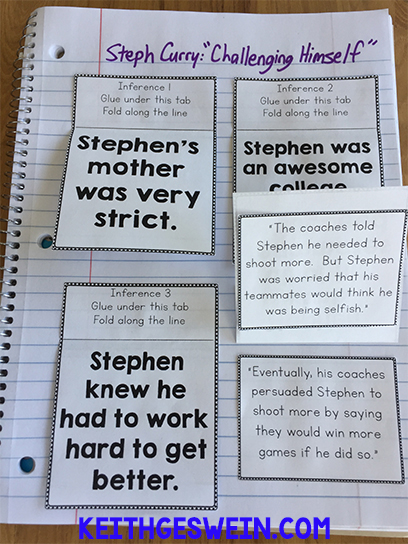 Writing Prompt
Students must write why Steph's childhood helped him become an NBA superstar.  They will have to use text evidence to support their ideas.
Quiz
All four quiz questions correlate to RI 5.1.  Three are multiple-choice and one is short-answer.  This makes a great exit slip or quick assessment.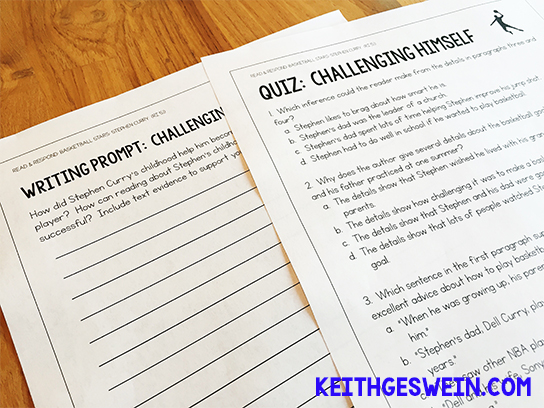 You can adapt this lesson to meet the needs of your students.  You know your students better than anyone.  Only use the sections of this lesson pack that will help your students improve their ability to draw inferences from nonfiction text.  Click the image to download this free resource.
I have also created lesson packs for other fifth-grade RI standards.  Click the images for more information.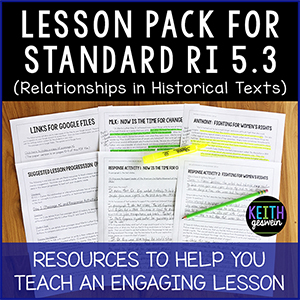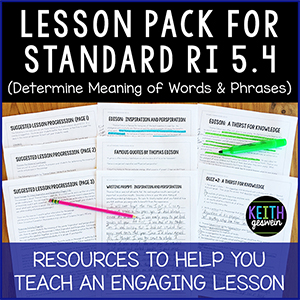 I've also created a bundle that includes lessons for all 10 fifth-grade RI standards.  The bundle is offered at a discounted price, which means you get one lesson for free.  Click the image below for more information.