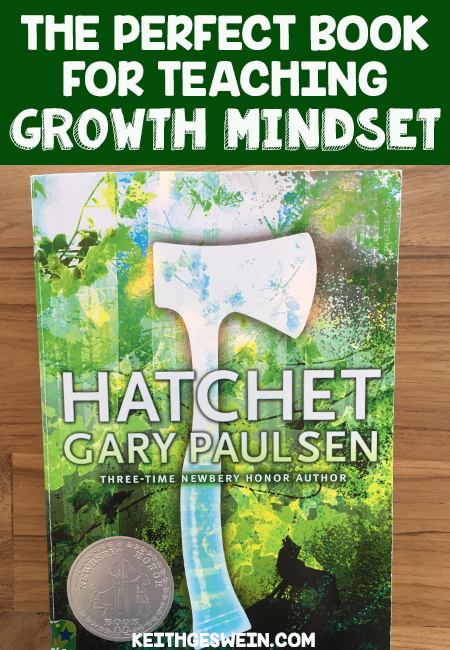 Hatchet is the perfect book to help students understand the benefits of developing a growth mindset!  The story is about a 13-year-old boy, Brian, who survives a plane crash.  Then through sheer will power and determination, he survives in the wilderness for months until he is rescued.  Reading Brian's story of survival gives you plenty of ways to teach your students growth mindset because Brian never gives up.  He forces himself to keep trying even when he fails.  The author does a brilliant job of illustrating how Brian talks to himself as he wills himself to accomplish tasks.  Brian is the perfect character for your students to read about as you teach them to develop a growth mindset.
In this blog post, I'll give you three ways your students can learn why it's important to develop a growth mindset after reading Hatchet.  After that, you'll see three discussion topics that you can use with your students after they read Hatchet to reflect upon the growth mindset lessons they learned from Brian that they can apply in their lives.
Growth Mindset Lessons
Brian is never successful at first when he tries something new.  But the harder Brian works to achieve something, the more pride he feels when he accomplishes it.  
Brian finds berries to eat within a few days after crash landing.  Then he figures out how to catch fish.  But nothing compares to the pride he feels when he cooks his first bird and eats delicious meat.  Several chapters give details about Brian building tools to catch animals.  Then he improves those tools over and over again until they work.  In chapter 15, Brian starts craving meat.  So he figures out a way to finally catch birds that he calls "fool birds."  It takes him a long time to figure out how to catch one.  Brian fails the first several times he tries to catch a fool bird.  But he never gives up.  When he finally catches one to cook, he says the meat tastes better than anything his mother has ever cooked.  Brian feels tremendous pride because he worked so hard to catch it.  The author does a brilliant job of illustrating all the work that went into catching a bird and the immense pride Brian felt when he was eating it.  This is a tremendous example for your students to see that nothing compares to the satisfaction of working hard to accomplish something.
Brian is a normal kid, but he learns a lot about surviving in nature because he is willing to learn from his mistakes.
The text is clear that Brian is not a genius or expert outdoorsman.  Brian is used to living in the city.  He had problems doing simple bike repairs before the plane crash.  He survives because he keeps trying to learn new things and realizes that failure is part of learning. In chapter 14, a skunk sneaks into Brian's shelter at night and steals food.  Brian realizes he was foolish to bury them in the ground where any animal can get it.  After this failure, Brian realizes he needs to store his food in a high place where animals can't steal it.  He finds a place, then he has to use tree branches to build a ladder for him to reach this place.  Once he has his food out of reach, he feels extremely proud.  He never has any more food stolen for the rest of the book.  It's an outstanding example of Brian learning from a mistake.  There are MANY scenes like this where Brian fails, then learns from it.
Facing problems head-on becomes a habit for Brian.
The story is full of challenges for Brian.  But instead of getting discouraged by them, he always forces himself to think of solutions.  In chapter 16, Brian was attacked by a moose.  Later that night, his shelter was destroyed by a tornado.  But the next morning, Brian started thinking about how he would rebuild his shelter.  He realized he was "tough in the head" because he had gotten so used to facing problems rather than getting discouraged by them.  It had become a part of who he is.  This is an outstanding lesson for your students.  Just like working out can make you stronger physically, forcing yourself to solve problems rather than getting discouraged can make you stronger mentally.
Discussion topics:
In chapter 18, Brian retrieves a huge bag of supplies from the plane that crashed into the lake.  The bag is full of incredible things that will help Brian tremendously.  But the text in chapter 19 said the pack "Gave Brian up and down feelings."  Why would Brian feel "down" about the contents of this bag?
Possible response:  Brian had spent about two months surviving on his own in the wilderness.  Other than his hatchet, he built everything on his own.  He figured out everything on his own.   These supplies are like a bunch of shortcuts.  Nothing about the last two months has been a shortcut for Brian.  Students may also think Brian is sad that he didn't have these supplies at first.  But I feel like most of the text evidence suggests that Brian is not fond of using supplies that will make things like hunting, catching fish, and starting fires, a lot easier.
At the beginning of chapter 8, Brian is attacked by a porcupine in his sleep.  Besides the pain of the needles in his leg, why does he start crying?  Then what makes Brian realize that crying accomplishes nothing and how does that help him during the rest of the story?
Possible response:  At the end of chapter 7, Brian falls asleep feeling more content than he has since the plane crash.  He has a shelter and he's full from eating a lot of berries.  But in the middle of the night, a porcupine gets into Brian's shelter and shoots several sharp needles into Brian's leg.  The pain is bad, but Brian feels terrible because he hasn't figured out how to make fire yet.  He wonders what will happen if a larger animal gets into his shelter at night.  Then he feels like he will never be able to survive and starts sobbing uncontrollably.  When he's done, the text states, "Later he looked back on this time of crying in the corner of the dark cave and thought of it as when he learned the most important rule of survival, which was that feeling sorry for yourself didn't work.  It wasn't just that it was the wrong thing to do, or that it was considered incorrect.  It was more than that — it didn't work."  When Brian had problems later in the book, he didn't cry.  He just kept thinking and trying new things until he found a solution.
After the rescue plane flies away in chapter 12, Brian feels like all hope is lost.  Then in chapter 13, the text states, "In measured time, forty-seven days had passed since the crash.  Forty-two days, he thought, since he had died and been born as the new Brian."  Summarize what this means.  How has Brian become "the new Brian?"
Possible responses:  The rescue plane came a few days after Brian's initial crash.  After Brian watched it fly away, he realized no one was coming for him.  He felt incredibly depressed and tried to kill himself.  But he didn't.  The text states Brian returned to his shelter that night and realized, "He was not the same.  The plane crashing changed him, the disappointment cut him down and made him new.  He was not the same and would never be again like he had been.  That was one of the true things, the new things.  And the other one was that he would not die, he would not let death in again."  This flashback that Brian has in chapter 13 happened 42 days earlier.  Students could also point to the fact that Brian never even thinks about quitting and never stops until he has figured out a way to accomplish what he sets his mind to.
I have created quizzes and writing prompts to help you teach Hatchet.  The prompts are excellent ways for your students to connect with the events in the book.  The quizzes are a quick way for you to ensure your students are comprehending the story.   Click the image below to see the novel study in my TpT store!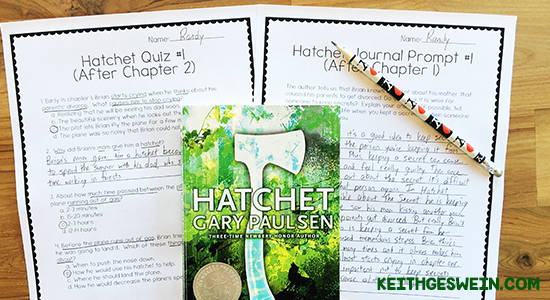 I hope your students enjoy this book and become more determined to get "tough in the head" just like Brian did!
Teaching Ideas & FREE Reading Passages!
Enter your email address to receive my newsletter full of teaching resources and ideas. You'll also receive free reading passages about Muhammad Ali. One passage for grades 5-6, another passage for 3-4, and a third passage for 1-2. I know teachers get enough emails, so mine will not come too often.