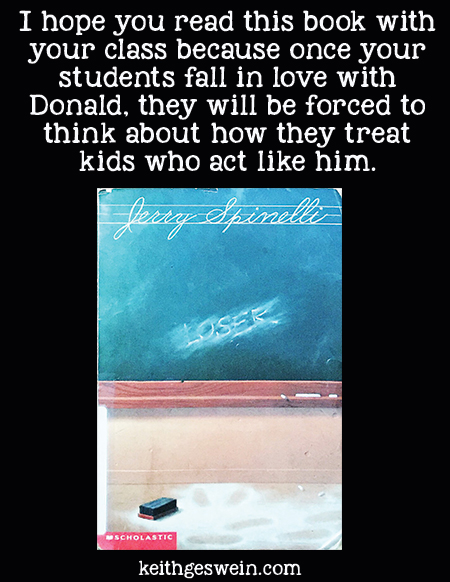 Most of my fifth graders say Donald Zinkoff is their favorite character of any book they read all year!  We have incredible discussions while reading Loser because my students like Donald so much.  I wanted to share some discussion topics that will impact the way your students act when they see kids being picked on.
Author Jerry Spinelli describes Donald's life from a young boy through middle school.  Donald is very different from his classmates.  He has zero social skills.  He has terrible handwriting.  He doesn't get good grades.  He is incredibly clumsy.  It's easy for anyone to pick on him.  When he gets to 4th grade, classmates begin calling him "loser."
But Donald is one of the kindest, most tender-hearted characters your students will ever read about.  He cares about everyone.  He assumes everyone has good intentions.  He doesn't hide his emotions.  His family doesn't have much money, but Donald never cares about that.
I hope you read this book to your class because once your students fall in love with Donald, they will be forced to think about how they treat kids who act like him.  By fifth grade, everyone has been around someone like Donald.  Everyone has seen a kid get picked on because they're different.  We have incredible discussions about this while we read Loser.
Discussion topic:
"We all agree that Donald is an incredible person.  We are all sad when he gets teased.  So what will you do next time you see someone like Donald getting picked on?"
Students NEED to realize that kids like Donald deserve respect.  Students NEED to understand it's wrong to tease a person, even if everyone else is doing.  It is so powerful for students to feel sad for Donald as he is being teased by all of his classmates.  Reading about Donald is far more effective than me saying, "Don't pick on others."  This is big in helping kids understand why treating people respectfully is so important.
Discussion topic:
One time, a student asked me, "Why doesn't everyone else (in the book) realize what a nice person Donald is?"
This is exactly what I want my kids to ask while they're reading Loser because I want them to think about this next time they see a kid being teased because he/she acts differently than everyone else.
Discussion topic:
"What would happen if these kids got to know Donald instead of teasing him?  Do you think they would enjoy being around him?"
There is not ONE classmate who tries to get to know Donald during the book.  He even has a few teachers who are annoyed with the way he acts.  His fourth-grade teacher, Mr. Yalowitz, treats Donald more respectfully than any teacher he's ever had.  My students like the way Mr. Yalowitz accepts Donald for who he is.  Then we talk about how good we would feel if a classmate made an effort to get to know Donald.
One year I read this book with a guided reading group instead of the whole class.  The five kids in my guided reading group loved Donald so much that they told their classmates about him.  The other kids asked to read Loser when I wasn't using the books in guided reading.  I eventually ended up reading the book to the whole class because EVERY STUDENT was dying to read about Donald.
I hope you will find time to read Loser with your class this year.  I've developed a 50-page novel study unit to help your students respond to the text.  Or this can simply to give you more ideas of things to discuss while you read this during a read-aloud time.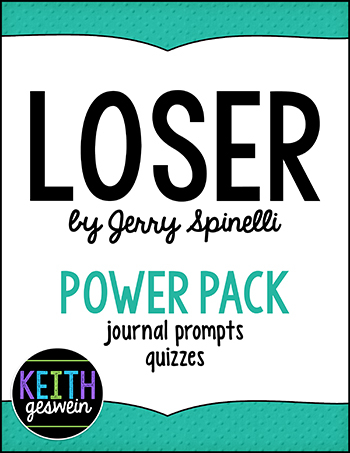 Teaching Ideas & FREE Reading Passages!
Enter your email address to receive my newsletter full of teaching resources and ideas. You'll also receive free reading passages about Muhammad Ali. One passage for grades 5-6, another passage for 3-4, and a third passage for 1-2. I know teachers get enough emails, so mine will not come too often.