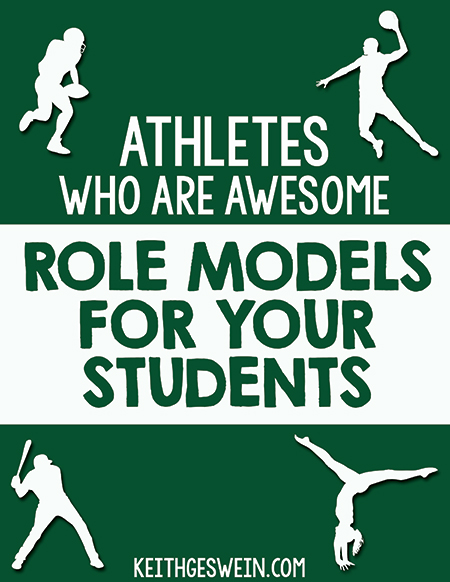 I started writing informational texts about famous athletes in August 2015.  My goal is to create high-interest nonfiction passages for students who normally don't like to read.  But after researching over 70 athletes, I have realized that young people can learn a lot of important life lessons by reading about these athletes' lives!  Yes, there are athletes who make bad choices.  But there are so many who set awesome examples for our students!  Here are my main takeaways after a year of reading about famous athletes:
** Lots of them are INCREDIBLE ROLE MODELS FOR YOUR STUDENTS for reasons that have nothing to do with their athletic ability!!
** They are really smart!  The "dumb jock" stereotype needs to be done away with forever!
** Your students need to read how hard they have worked their entire lives.  When they face challenges and criticism, they don't quit.  They use it as fuel to work harder.
These are four athletes who have really impressed me while I researched them.
Aaron Rodgers  
Life lesson:  Small kids from small schools can achieve big things!
During my 14 years of teaching, I've taught several boys who think they can't play sports because they are short.  But Aaron was small when he started high school.  He attended a small high school that produced few college football players, much less future NFL stars.  Aaron put up incredible numbers playing quarterback in high school, but no big colleges offered him a scholarship.  So Aaron went to tiny Butte Community College, where he continued putting up incredible stats.  Finally, after years of hard work and persistence, he was offered a scholarship to play football at the University of California Berkeley.
Even then, people doubted him.  Aaron says a college professor laughed at him when he said he was going to play in the NFL.  Then when Aaron was drafted into the NFL, he had to wait three years as a backup to Brett Favre before he got to play.  But Aaron never complained.  He took notes on what Brett did every day in practice.  He observed the questions Brett asked in meetings.  Aaron refused to get discouraged.  Now he is one of the best quarterbacks in NFL history.  Aaron also does a ton of charity work to help raise awareness and money for childhood cancer research.  Once, he surprised a 12-year-old girl whose younger brother had recently died from cancer.  When Aaron heard how much this girl was doing to raise awareness for cancer research, he wanted to help her.  He spent the day  helping her with her project.  Aaron's heart is as big as his talent.  Click below for passages your students can read about Aaron.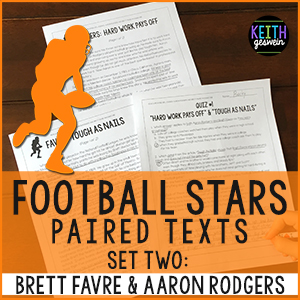 Simone Biles
Life lesson for your students:  Years of hard work can pay off in "golden" ways!
Simone Biles has dominated gymnastics in a way that has never been done before!  She won four gold medals at the 2016 Olympics.  She dominated the World Championships for two years before that.  But Simone missed out on the 2012 Olympics because she was just barely too young.  That meant training for long hours every day for nearly four years to achieve her dream of competing in the Olympics.  It's really tough for gymnasts to stay at an elite level for that long, but Simone was up to the challenge!  More importantly, Simone's coach said she kept an amazing attitude during all these years of training.  This incredible attitude was on display during the 2016 Olympics when Simone made a mistake that cost her a gold medal on the balance beam.  But she cheered like crazy for fellow American Laurie Hernandez as she won silver in that event.  Her attitude and work ethic are just as incredible as her talent.  Click below to see my paired texts about Simone and Shannon Miller.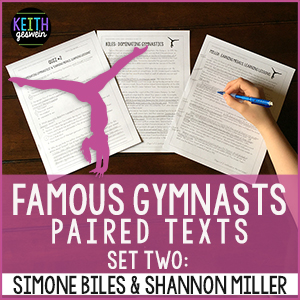 LeBron James
Life lesson for your students:  Sports can provide stability when life gets tough.
LeBron James was raised by his mother.  They didn't have much money, so they moved a lot.  LeBron thinks he moved six times when he was 4th grade!  Do you have students who are being raised by just one parent?  Or students who move a lot?  They need to read LeBron's story!  Once he got involved with football, his coaches became father-figures.  They encouraged him to stay in school and get his homework done every night.  One of these coaches taught LeBron how to dribble a basketball.  Before he became a basketball star, LeBron needed stability in his life.  You probably have students who could use sports as a stabilizer in their life, just like LeBron.
Kids also need to realize that the man who is currently king of the NBA was one of the most hated and mocked athletes in the country from 2011-2012 when he went to the Miami Heat.  But he used it as motivation to work hard.  He also does a TON of work promoting education.  He has an awesome program that helps at-risk kids from elementary school all the way through high school graduation.  He gives awesome rewards for kids who have perfect attendance and good grades.   There are many reasons Cleveland should be proud of LeBron.  Click the image to see the passages I wrote about LeBron and Michael Jordan.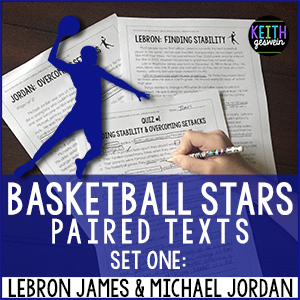 Carlos Correa
Life lesson for your students:  Set goals and work like crazy to achieve them!
Of all the athletes I've written about, I've been most impressed with Carlos.  One of MLB's brightest young stars grew up in Puerto Rico.  His dad worked construction jobs and made Carlos help him starting when he was eight years old.  Carlos learned what it meant to work hard.  So when he decided he wanted to become a pro baseball player, he worked as hard as he could to improve every day.  He also worked hard to learn English.  He saw many MLB players who needed a translator when they were interviewed.  So when Carlos was in third grade, he asked his parents to send him to a school where he could learn English.  He wanted to be able to speak for himself when he became an MLB player one day!  Carlos was an awesome student who graduated with the best grades in his high school class.  He scored a 1560 on the SAT!
He also has a huge desire to help others.  He started helping homeless people in Houston just a few weeks after joining the Astros in 2015.  He says God has blessed him with an incredible talent, so he has a responsibility to give back to his community.  Carlos is an incredible person for your students to learn about!  Your students will learn a ton about hard work if they read these paired texts about Carlos and Cal Ripken Jr.!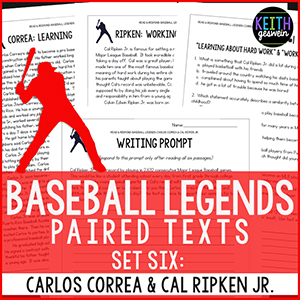 Teaching Ideas & FREE Reading Passages!
Enter your email address to receive my newsletter full of teaching resources and ideas. You'll also receive free reading passages about Muhammad Ali. One passage for grades 5-6, another passage for 3-4, and a third passage for 1-2. I know teachers get enough emails, so mine will not come too often.