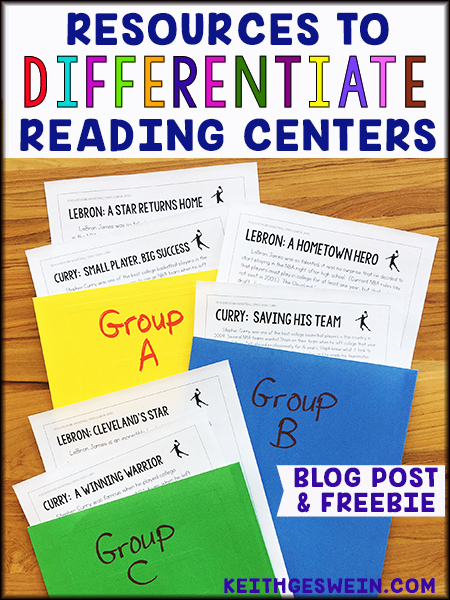 I had a love-hate relationship with reading centers when I taught fifth grade.  I loved working with small groups of students.  I loved holding my students accountable for independently completing a list of expected assignments each week.  I hated the expectation from my district that students were supposed to work at centers every day (including the day before breaks) with NO EXCEPTIONS.  I was also told that each center activity needed to be differentiated depending on the reading level of the kids in each group.
I have listened to administrators give endless research about the benefits of kids working at reading centers.  I've known plenty of teachers who are so awesome they have center rotations for every subject they teach!  I have no issues with being told to teach centers.
Unfortunately, many teachers are not given the appropriate resources to accomplish this.  Sometimes they aren't given anything at all.
I was so thankful when my grade departmentalized for two years.  One reason I loved it was because I taught science, so I didn't have to worry about finding resources for all these differentiated reading centers every week…then having what I did find scrutinized when people walked through the room on a weekly basis.
I know I'm preaching to the choir.  Here's how I'd like to help.
One of my go-to centers involved kids reading and responding to nonfiction passages.  I imagine many other teachers have a similar center.  So I have written free nonfiction paired texts about famous athletes on a variety of reading levels (grades 1-6) that include quizzes and writing prompts.  This will allow you to provide nonfiction reading materials on the students' level.  All you have to do is put the passages in different colored folders, depending on the reading level of the kids in that group.   Then tell each group which folder to pull passages from.  This is just one of many ways to facilitate that.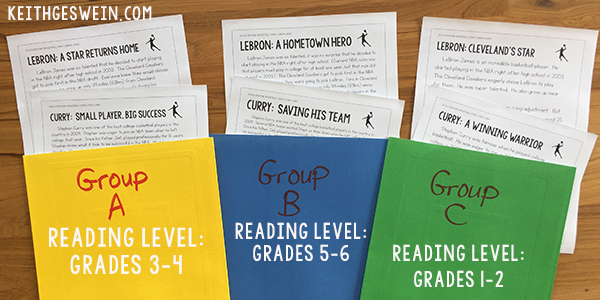 I've tried my best to create these passages to look similar, so it won't be obvious which passages are written on a lower reading level.  I try to avoid giving reading material that looked like it was straight out of a first-grade classroom to my struggling fifth-grade readers.
Middle-school teachers — I've also heard from teachers in grades 6-8 who said these were helpful for students who are reading below grade level, but need high-interest reading material that doesn't look "babyish."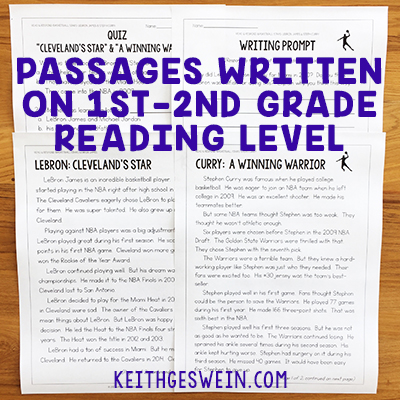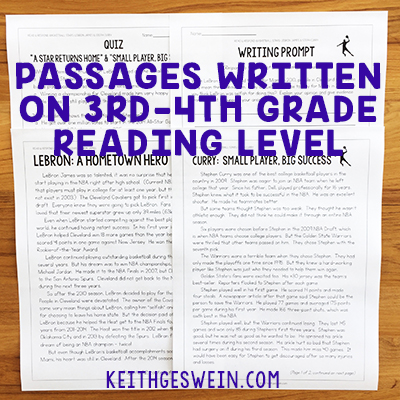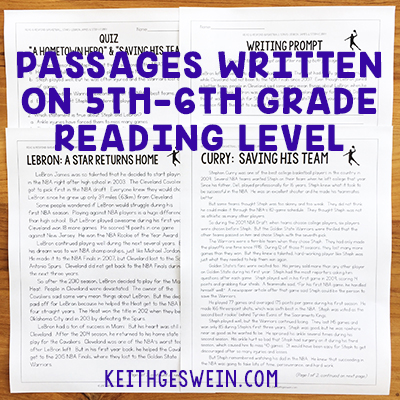 Each set of paired texts comes with a quiz and writing prompt.  Each set of paired passages compares two famous athletes.  For example, the passages pictured above compare famous NBA players LeBron James and Steph Curry.
If you feel like your kids need a break from answering quiz questions, there are several other ways they could respond to these passages:
–Write a paragraph/essay comparing and contrasting these two athletes.  Compare and contrast how they became famous, what their childhood was like, what they've accomplished in their pro career, etc.
–Write a paragraph/essay giving your opinion as to which athlete is better.  Use text evidence to support your opinion.
–You could have also students verbally debate which athlete they think is better.  They could spend their time at the nonfiction reading center writing out facts to support their argument.  Then your entire class, regardless of which group students are in for centers, can debate which athlete they think is better.
–What are some things these two athletes did to become incredible players in their sport?  What did you learn about the importance of working hard from reading about their stories?  (I try to include examples of these athletes working hard in all of my passages!)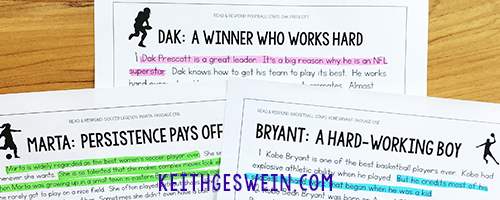 Click the images below to download a free set of differentiated passages.  I hope they help make planning for centers a bit easier.
If you need more, I also have differentiated paired texts about athletes in other sports like soccer, gymnastics, swimming, baseball, and more.  Click any of the images below for more information.  These products include three times the number of paired texts as the free products above.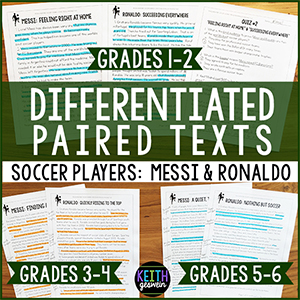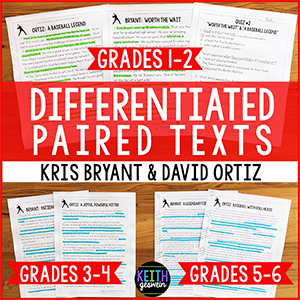 I hope these resources will help you provide reading material that kids love on a reading level that won't frustrate or bore them.  Thousands of teachers have used my paired texts.  Many have said how much their students love them.
I recently volunteered at a school to help with standardized testing.  I brought a few of my passages for the 3rd graders to read during breaks in testing.  One boy, who said on the first day that he hated reading, literally started dancing in his seat when I gave him reading passages about Ronaldo, who is a famous soccer player.  I'm confident you have students in your class who will feel the same level of excitement if they get to read about famous athletes during reading class.
Teaching Ideas & FREE Reading Passages!
Enter your email address to receive my newsletter full of teaching resources and ideas. You'll also receive free reading passages about Muhammad Ali. One passage for grades 5-6, another passage for 3-4, and a third passage for 1-2. I know teachers get enough emails, so mine will not come too often.