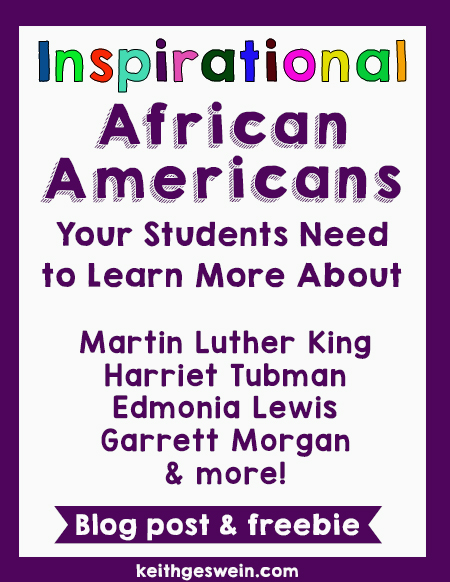 Dr. Martin Luther King and Harriet Tubman
I taught third grade at an international school in China for four years.  Most of my students were Korean children whose parents worked in China.  Our big project every year was a wax museum presentation, where students would dress up as famous people and stand like wax statues, speaking only when people walked up to them.  EVERY YEAR, I had several boys ask to be Martin Luther King and several girls ask to be Harriet Tubman.  It was so cool to see my Korean students in China be so inspired by these two!
During my ten years of teaching the US, I tried to keep as many books about Dr. King and Harriet Tubman in my classroom library because my students loved reading about them.  It was a no-brainer for me to write informational texts about them.  I think it's great for students to see how hard these two worked to help African Americans.  It's also cool for students to compare the way they worked — Tubman often worked in secret to help slaves escape via the Underground Railroad, while Dr. King wanted most of his actions to be made publicly.  This leads to some excellent class discussions about how two completely different techniques can be used to achieve the same goal.
Here's what my paired texts about MLK and Harriet Tubman look like.  Click the image to see the product in my TpT store.  From there you can download a preview to see more of this or purchase the set for $4.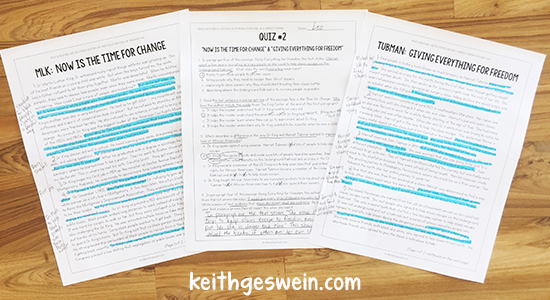 Edmonia Lewis (sculptor) and Garrett Morgan (inventor)
These two should receive more attention.  Edmonia Lewis is the first African-American woman whose sculptures received international recognition.  She attended college in 1859 to study art, but she had to leave before earning her degree because she was accused of crimes she didn't commit.  Then she had to break into a profession that was dominated by white men.  She refused to take no for an answer and eventually found someone to mentor her.  She made a sculpture that helped her earn enough money to move to Rome.  But my favorite fact about Edmonia is how she carved her own marble sculptures in Rome.  Most other sculptors who worked in Italy made a model, then hired locals to do the physically-demanding job of carving the sculpture into the marble.  BUT NOT EDMONIA!!!  Even though she was about four feet tall, she refused to hire help because she didn't want anyone to question the validity of her work.  Edmonia's sculptures featured characteristics of her African-American and Native-American (Chippewa) heritage.  Kids who love art will be inspired by her story!
Garrett Morgan invented things that saved lives.  He saw problems, then invented things to solve them.  He noticed the firefighters sometimes died from suffocation when they entered buildings full of smoke.  So he invented the first gas mask in 1912 that allowed firefighters to breathe in smoky buildings.  This invention helped him rescue miners who were trapped in a tunnel in Cleveland in 1916.  Garrett's gas mask helped him breathe long enough to rescue two men who were trapped.  A few years later, he witnessed a terrible car accident at an intersection in Cleveland.  So he invented a traffic signal that included a "warning" signal to give people time to slow down before the signal turned red.  It's why traffic lights today have the yellow light.  Garrett's story will inspire students who have a passion for creating things that help people.
Click the image below to see my paired texts about Lewis and Morgan.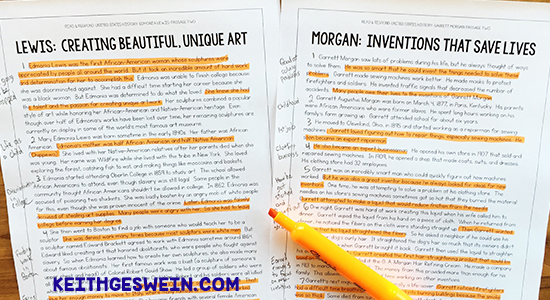 Gabby Douglas and Simone Biles:  Olympic gold-medal gymnasts
Simone Biles dominated gymnastics at the 2016 Olympics like no one else has ever done before.  But in 2011, she missed making the US team by one spot.  She made the US team the next year, but she was a year too young to compete in the 2012 Olympics.  So that meant she was going to have to train for four years to compete in the Olympics.  Instead of getting discouraged, Simone got to work — and she did so with an amazing attitude.  Her story is a perfect example of how to handle disappointment and how years of hard work can pay off in incredible ways.
Gabby Douglas is one of the few US gymnasts to compete in two Olympics.  She became a superstar when she won the all-around at the 2012 Olympics.  She was disappointed that she didn't win any individual gold medals in 2016, but she was more disappointed at all the criticism she received.  For some reason, Gabby has been the focus of lots of unfair, hurtful criticism on social media during both Olympics.  Some reporters in Rio seemed more interested in getting her reaction to mean tweets than asking about her gymnastics routines.  But I hope you show your students this quote from Gabby because it sets such a powerful example of how to respond to people who criticize you:
"When you go through a lot and you have so many difficulties and people against you sometimes, it kind of just determines your character.  Are you going to stand or are you going to crumble?  I have no regrets coming back for a second Olympic team.  It's been an amazing experience.  It's been teaching me a lot."
My paired texts about Gabby and Simone are FREE!  Click the image below to download this free item.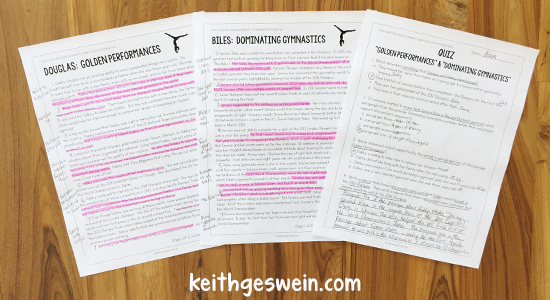 LeBron James and Michael Jordan (NBA)
When LeBron James was young, he moved a lot and was raised by his mother.  They didn't have much money.  I think it's powerful for young people who are living in a similar situation to realize they can grow up to be successful.  Sports played a huge role in stabilizing LeBron's life when he was young.  When he started playing football and basketball, he met lots of awesome people who were great role models for him.  Maybe you have students who are in a similar situation…maybe sports can be the positive thing they need in their life, just like LeBron when he was young.
Michael Jordan is one of the greatest players in NBA history, but he didn't make his high-school varsity team his sophomore year.  Lots of kids know that story, but it's important for your students to read about his failed attempt at playing Major League Baseball.  Michael abruptly retired from the NBA in 1993 at the peak of his career.  He then tried out for the Chicago White Sox because he has always loved baseball.  But he wasn't very good.  He spent his brief baseball career in the minor leagues, where he didn't hit very well.  It was so strange to see one of the greatest athletes ever struggle so mightily on the baseball field.  Michael retired from baseball in 1995 and returned to the NBA.   It's great for your students to read about one of the world's greatest athletes TRYING something new, FAILING, then returning to DOMINATE the NBA!
Click the image below to see more of my paired texts about LeBron James and Michael Jordan.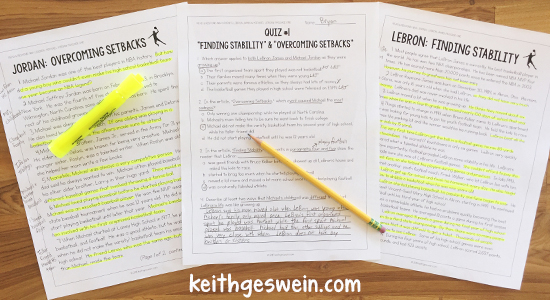 I hope your students will learn a lot by reading about these inspirational people!
Teaching Ideas & FREE Reading Passages!
Enter your email address to receive my newsletter full of teaching resources and ideas. You'll also receive free reading passages about Muhammad Ali. One passage for grades 5-6, another passage for 3-4, and a third passage for 1-2. I know teachers get enough emails, so mine will not come too often.