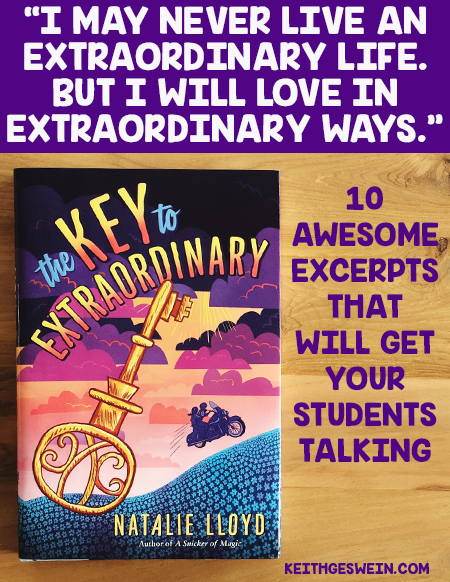 Be warned:  You will pause many times while you read The Key to Extraordinary to ponder the words that you've just read!  I've never read a children's book where I've stopped so many times to write down an awesome quote.
In this post, I've pulled out 10 excerpts that will lead to incredible discussions, or make excellent writing prompts, that are ideal for students in grades 4-7.  You'll find PLENTY more as you read The Key to Extraordinary!!  I hope this post encourages you to read the book, which was published in January 2016!
Quick synopsis:  The story is about a 12-year-old girl named Emma whose family owns a business.  When Emma's grandmother is forced to sell the business, Emma becomes determined to find a way to help keep it in her family.  Emma, like every other woman in her family's history, has a dream that gives clues as to something extraordinary she will do in her life.  Emma is an extraordinary character, but she doesn't realize how until the end of the story.
Here are some incredible excerpts for you to discuss with your students.  I've included the page number and the character who said it:
"In the eyes of many people, I may never live an extraordinary life.  But I will love in extraordinary ways.  And I hope I choose to always see the best in people."   Emma, page 225
"Every creature in the world needs to be reminded that they aren't alone.  That somebody cares about them.  That they have a friend to lead them out of the present mess."  Emma, page 193
"Every day you live is a day for dreaming.  Every day is a day for adventuring.  And every day is a day for sharing with people you love, because love's all that lasts.  It's the only thing we carry out of this world.  It connects us all, in the end."  Emma, page 224
"I think it's kind of a cool way to live — to find something to celebrate every day."  Emma's friend, Cody Belle, page 111
"Fear is just a flashlight that helps you find your courage."  Emma, page 42
"I think about how nobody knows how long they have in the world.  And how we only get a certain number of words to say and share.  I'd hate for the last words that come out of my mouth to be mean ones.  I don't want my words wasted."  Emma, page 95
"My mama used to say that everybody you meet is a walking, talking broken heart.  Some people put the pieces back together better than others."  Emma, page 113
"But in the moment Cody Belle told me Earl was missing, I came to an important conclusion:  My treasures weren't just in the walls of that place.  My treasure was the people I loved."  Emma, page 190
**You may want to delete the first part of that quote about Earl being missing if your students haven't read it yet, as it does give away a dramatic event that happens.**
"I learned that courage and fear always come as a pair.  If you've got one inside you, you've surely got the other."  Emma, page 200
In chapter 13, Emma reads a relative's letter.  This relative's house was burned down by Confederate soldiers during the Civil War.  The girl was blinded in one eye after the soldiers attacked her.  People wanted the girl to speak about this attack, but here's how the girl responded:  "They wanted bloody details.  But I talked about forgiveness and family.  I talked about learning to rebuild a farm and a life, even though we started from ashes…sometimes, even doing the right thing will leave you with scars.  But beauty comes from ashes, too.  And I know that to be true."  Rachel Miller, page 138
Trust me, there are MANY MORE thought-provoking words in Natalie Lloyd's book!  I have eight more written down, but I didn't want this post to go on forever!
I've created a novel study unit for this book because I want to make it easier for teachers to read The Key to Extraordinary with their class.  The writing prompts give your students more ways to respond to the book, in addition to the excerpts in this blog post.  The quizzes serve as quick comprehension checks after every two chapters.  Click the image below to grab these resources.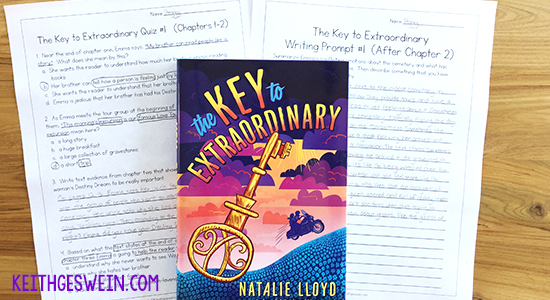 I hope your students enjoy discussing what it means to be extraordinary!